BRUSH PACK 1
PLEASE READ ALL THE INFO BELOW! (helpful hints for using these brushes, and troubleshooting)
this set of brushes range from sketching and lining to painting and texturizing! all pretty dry, and very gritty, which are my personal favorite things in a brush :)
the free demo contains gouache-ish 2, big softie, square sketcher, and trace monotype. if you enjoy it, please consider getting the whole pack!
THE BRUSHES:
dying marker: nice for sketching or shading, good value range with a soft papery texture
fineliner: simple lining brush with no pressure sensitivity (but the size will increase if you tilt! can change that in the settings to your preference)
used fineliner: like the fineliner, but a bit grittier!
uzumaki painter: simple multi-purpose brush with a subtle spiraling texture, nice for rendering, sketching, and even line art!
trace monotype: pressure sensitive brush inspired by the line quality seen in trace monotype prints! personally love it as a multi-purpose brush, but great for fun lines
trace monotype 1: the same as the first trace monotype, but not/much less pressure sensitive
blurry brush: normal rectangular brush but with some built in gaussian blur: great for shading
square sketcher: like the name implies, a subtly textured square brush that's great for sketching, lines, or rendering!
charcoal square: similar to the square sketcher, but much more textured (almost like its charcoal, haha)
uzumaki: textured brush with the spiraling texture from brush 4. try using it on a low opacity with a blending mode like overlay to add a subtle, not-noise texture to a flat area of color!
big softie: a nice and rich alternative to a normal airbrush, with a subtle carpet-y texture. can use it really subtly to add shading, or use it as a painting brush for a spraypaint-esque look
painty flatter: very textured painting brush: texture inside, texture on the edges. great for starting out a painting without using a hard round brush
fun painty flatter: same as above, but with a subtle color jitter! feel free to go into the settings and tweak the amount of color jitter to your preference
gouache-ish 2: a sequel to the gouache-ish brush i made in 2019, this time with my own textures and shapes (yippee)! easy and approachable brush for just about anything, from painting to lining to sketching
fun gouache-ish 2: like the fun painty flatter, its the gouache-ish brush with a subtle color jitter
the spackler: a low opacity, high textured fill. love using this in conjuction with the trace monotype brushes to get a really analog look. would also be great for adding shading and extra texture.
sparse and gritty: a simple gritty textured brush with some slight pressure opacity. use it to shade, or to add texture with blending modes on top of what you already have going
big and dusty: a big, unruly texturing brush! USE CIRCULAR MOTIONS for the best effect. can use it for texturing, or as a fun alternative to an airbrush. if you're new to using a brush like this, you can use this on top of an existing clipping mask / mask / selection to reign it in a bit.
--------------------------------------------------
how to install: download the .brushset file and find it in your files app. open it and, when prompted, open in procreate. there's also video tutorials you can follow if you any issues with the install process, it should hopefully be straight-forward!
troubleshooting: will update this if any issues arise, but i did want to mention this....
here's the pressure curve i use in procreate (i have wrist and elbow problems so i can't push very hard)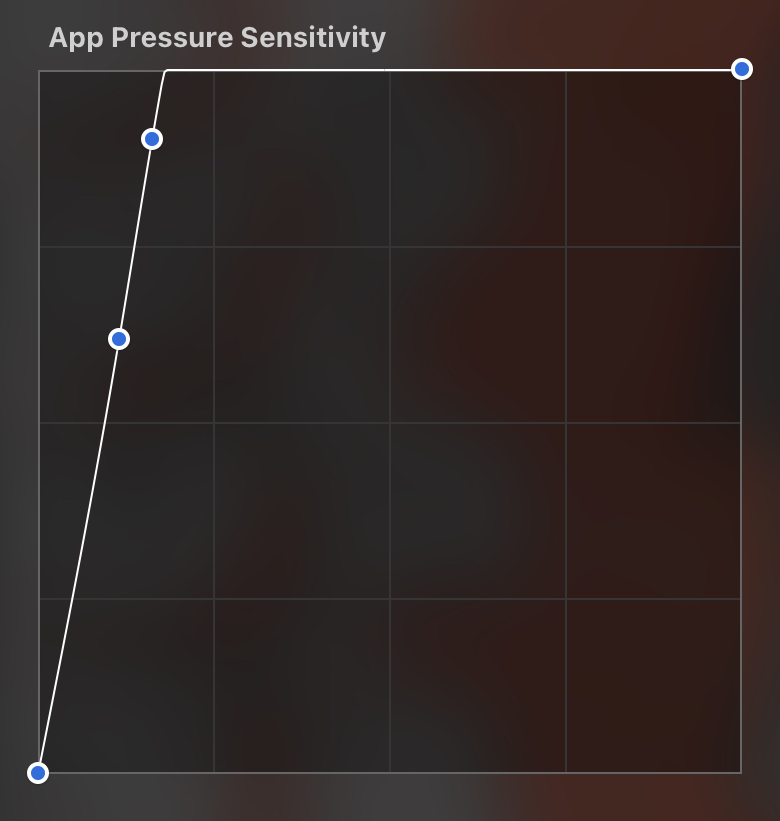 you may need to either change the pressure curve in procreate (under wrench icon -> prefs -> pressure and smoothing), or go into the brushes and change some pressure sensitivity settings in there to get them to work the way you see in the examples. (i'd also just generally recommend changing the sensitivity so you don't have to press down as hard, it's great)
thanks for reading and checking this out, i hope you enjoy!
Purchase
In order to download this brushpack you must purchase it at or above the minimum price of $2.50 USD. You will get access to the following files:
crvptozoology_brushpack__1.brushset
Download demo